daily glow trio
vegan skincare bundle
daily glow trio
vegan skincare bundle
What It Is: Three-piece skincare set that cleanses, tones and moisturizes your skin, plus a matching tote and makeup bag set.
cloudcleanse size: 144ml (4.87 fl. oz)  
milkdew size: 120ml (4.05 fl. oz.)
glowburst size: 50ml (1.7 fl. oz.)
tote bag 7 x 10 x 5 in.
makeup bag 8.5 x 6.5 in.


Treat your loved ones (or yourself) to the gift of glow with our limited edition daily glow trio. Wrapping up your favorite products into one must-have kit, these formulas come together to deliver powerful results. Our daily glow trio is infused with clean, microbiome-friendly ingredients like vegan probiotics and prickly pear extract to effectively cleanse, tone and moisturize your skin. This kit removes impurities, balances your skin tone, improves texture and hydrates for a healthy, glowing complexion. Plus, in the spirit of giving, enjoy our matching pink microfiber tote and makeup bag set. It's perfect for toting around all your everyday essentials everywhere you go this holiday season.
Set Includes:

cloudcleanse cloud-whipped foam cleanser - pH balancing foam cleanser that gently cleans the skin without stripping away its moisture.
milkdew pH balancing moisture milk toner - Two-in-one toner and moisturizer that balances, nourishes and hydrates, while prepping your skin for what's next.
glowburst intense hydration boosting cream - Deeply hydrating moisturizer that instantly replenishes, softens and smooths the skin.

tote bag - Spacious, easy-to-carry bag that holds everything you need and more.

makeup bag - Portable case to carry your makeup and beauty accessories in.


Vegan Probiotics
• regenerates a healthy skin barrier
• firms the skin for a more youthful look


Prickly Pear Extract
• replenishes & hydrates dry skin
• refines skin tone to help fade dark spots
sensitivity • dryness • dullness • aging skin • oiliness • acne-prone skin
While these products can be applied individually, we recommend layering them together in this order for better absorption.
cloudcleanse cloud-whipped foam cleanser:
1. Dispense 1-2 pumps of foam into one palm.
2. Gently massage onto wet skin.
3. Rinse thoroughly with warm water.
4. Pat dry


milkdew pH balancing moisture milk toner:
1. Pour 3-4 drops of pH balancing toner into one palm or onto a cotton pad.
2. Apply to clean, dry skin.
3. Gently pat until fully absorbed.
glowburst intense hydration boosting cream:
1. Apply 1-2 pea-sized dollops of cream onto clean, dry skin.
2. Massage gently in upward strokes.
When:
am • pm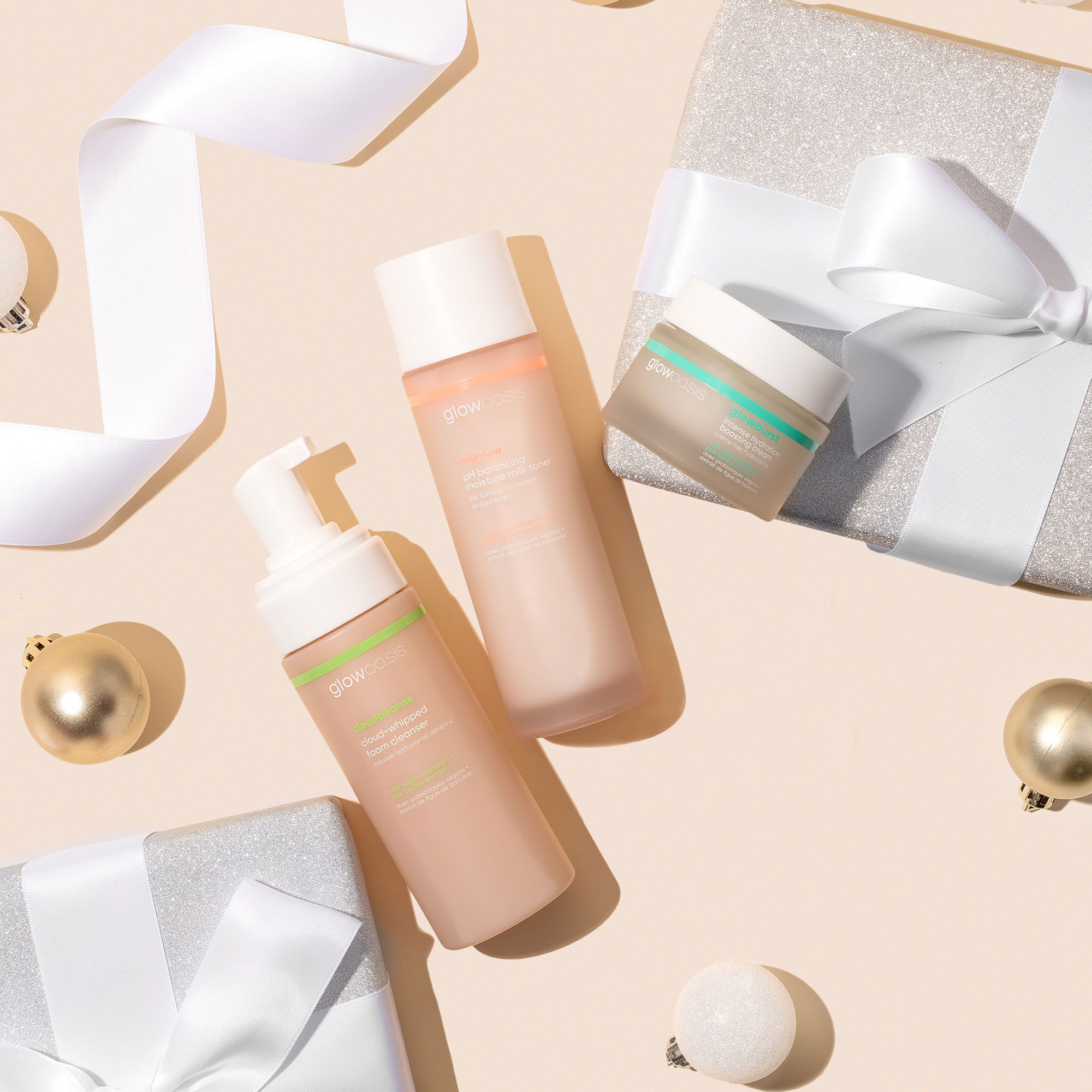 give your skin a little love
your skin's perfect pear
Prickly pear extract sourced from Jeju Island in Korea (AKA, the island of nature & purity) contains a high concentration of multivitamins & minerals, known to improve skin health.
These skin-loving nutrients replenish tired & dry skin and visibly brighten skin for a radiant, healthier, more youthful appearance.
your skin needs greens, too
Napa cabbage, found in the popular dish kimchi, has been widely used for more than 4,000 years because of its health benefits.
We climbed the highest oceanside mountains in Korea to source the best napa cabbage, known to be rich in antioxidants.
We then took it to the lab to develop our signature vegan probiotics using liposome technology.
Vegan probiotics promote skin immunity and boost its strength while protecting from environmental stressors.