Limited-edition, all-in-one holiday gift set that balances, brightens, and hydrates to treat the skin and delicate eye area.

refreshing eye cream: 20ml (0.67 fl. oz.)
milkdew mini duo: 20ml (0.7 fl. oz.) x 2
glowshot mini duo: 5ml (0.17 fl. oz.) x 2

Start mornings off right with the get up & glow bundle. This limited-edition gift set features the probiotics + triple peptide refreshing eye cream and rose quartz eye massager to awaken tired eyes. Together, they visibly hydrate, brighten, and de-puff to improve the appearance of fine lines, dark circles, and undereye bags. This bundle also includes the travel-size milkdew mini duo and glowshot mini duo, so you can prep, balance, and instantly hydrate skin at home and on the go. To elevate this self-care experience, the bundle comes with an ultra-plush, absorbent hair towel and scrunchie set and an exclusive cosmetic bag. This holiday season, get up and glow. It's time to face every day with confidence.

Bundle Includes:

probiotics + triple peptide refreshing eye cream — All-in-one eye cream that helps improve the appearance of fine lines, dark circles, and puffiness by firming, hydrating, and brightening skin.

rose quartz eye massager — Massaging tool that helps promote lymphatic drainage, reduce puffiness, boost circulation, and improve product absorption around the eyes.

milkdew mini duo — 2 travel-size moisturizing toners that balance, hydrate, and nourish the skin.

glowshot mini duo — 2 travel-size serums that instantly hydrate and revive dull, tired skin for a boost of radiance.

hair towel and scrunchie set — Super absorbent, plush hair care set that quickly dries the hair without causing damage.

cosmetic bag — Portable case to carry beauty products in.

Vegan Probiotics
Balances & strengthens the skin microbiome to address the root cause of skin concerns

Apricot Oil
Delivers long-lasting hydration

Cica Extract
Enhances skin elasticity to restore suppleness

Niacinamide
Brightens skin tone to help diminish dullness & improve the look of hyperpigmentation

Blue Agave Extract
Deeply hydrates to improve skin elasticity

Adenosine
Visibly smooths fine lines

Triple Peptide
Boosts collagen production & elasticity to help improve the appearance of fine lines

Vitamin C
Brightens skin tone & protects against free radical damage

Xylitol
Cools, de-puffs, & refreshes to invigorate tired eyes
Dryness + Dehydration • Tired + Puffy Eyes • Fine lines + Wrinkles
1. Pour 3-4 drops of toner into the palm of your hands or onto a cotton round, and apply evenly to clean, dry skin. Gently pat into the face and neck until fully absorbed.
2. With the serum bottle closed, squeeze the dropper a few times until it fills with product. Apply 2-3 drops evenly onto clean, dry skin and gently pat the face until fully absorbed.
3. Apply small dots of eye cream from the inner to outer corners underneath the eye. Gently pat them into the skin using the ring finger, and then wait 1-2 minutes for the cream to thoroughly absorb.
4. Carefully glide the eye massager across the eyelid from the inside corner outwards to the temple. Repeat this motion underneath the eye before moving on to the other eye.
When:
am
Glow tip:
The toner, serum, and eye cream all double as a primer that can be used underneath makeup for an even and longer-lasting application.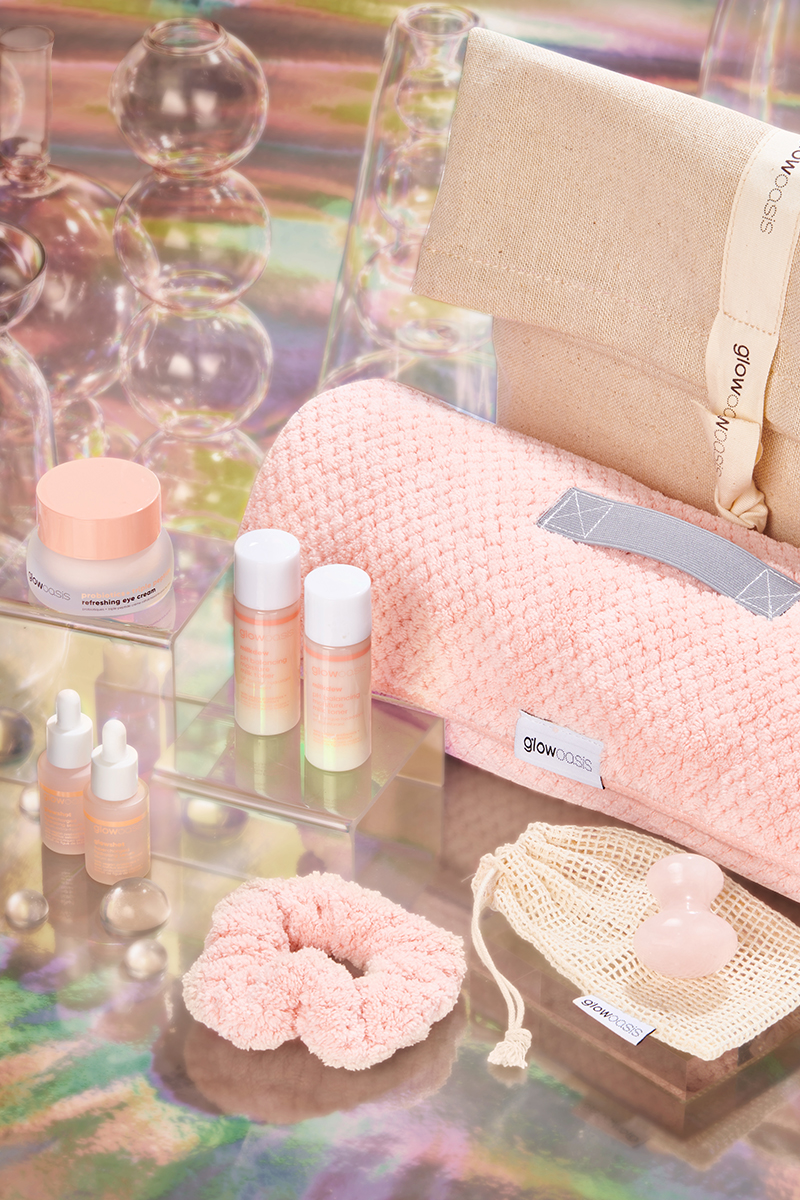 our clean commitment
We are committed to developing beauty products that truly perform while holding ourselves to unparalleled standards of clean.
learn more