Skincare set that gently exfoliates, tones, and moisturizes while providing extra comfort and nourishment to all skin types.

powderporefect powder-to-foam enzyme cleanser: 68ml (2.3 fl. oz.)
ultra calming toner: 120ml (4.05 fl. oz.)
hydra surge moisturizer: 50ml (1.69 fl. oz.)
powderporefect powder-to-foam enzyme powder packets: 2.07ml (0.07 fl. oz.) x 5

Bring life back to dry, dull-looking skin! The renew & restore bundle gently resurfaces skin to reveal greater clarity and improve overall tone and texture. Featuring powderporefect powder-to-foam enzyme cleanser, the EWG-verified probiotics + murumuru ultra calming toner and hydra surge moisturizer, and 5 travel-size powderporefect mini packets, this bundle was designed with sensitive skin in mind. powderporefect provides gentle enzymatic exfoliation to unclog and minimize pores while the fragrance-free toner and moisturizer combo instantly hydrates, comforts, and nourishes compromised skin. Complete with an exclusive cosmetic bag, the skincare set also plumps and replenishes moisture and helps minimize visible signs of redness. Treat delicate skin to the soothing, extra gentle care it needs.

Bundle Includes:

powderporefect powder-to-foam enzyme cleanser — Non-abrasive, water-activated exfoliant that sloughs dead skin cells and detoxifies pores without scrubbing.

ultra calming toner — Fragrance-free, balancing toner that visibly reduces redness and improves skin tone and texture to restore comfort to skin.

hydra surge moisturizer — Fragrance-free, hydrating moisturizer that melts into skin to lock in hydration, help restore the skin barrier, and calm visible signs of redness.

powderporefect minis — 5 travel-size exfoliant packets used to slough dead skin cells and detoxify pores without scrubbing.

cosmetic bag — Portable case to carry beauty products in.


Vegan Probiotics
Balances & strengthens the skin microbiome to address the root cause of skin concerns
Papaya Enzyme
Gently breaks down dead skin cells

Jeju Volcanic Ash
Draws out toxins, dirt, & impurities

Niacinamide
Brightens skin tone to help diminish dullness

Panthenol
Enhances moisture retention to leave skin soft, smooth, & supple

Desert Rose Extract
Promotes deep hydration for softer, more supple skin

Murumuru Butter
Helps calm and moisturize dry, compromised skin

Resurrection Plant
Helps protect skin from environmental stressors

Ceramide NP
Helps maintain skin's moisture barrier

Cica Extract
Helps soothe & repair irritated skin

Rosemary Leaf Water and Oil
Helps visibly balance skin by reducing redness & fading dark spots
Dryness + Dehydration • Sensitivity • Uneven skin texture • Uneven skin tone • Redness • Acne + Blemishes
1. Mix 3-4 shakes of enzyme exfoliant and water in one palm. Rub hands together until a creamy foam is formed. Gently massage onto wet skin. Let sit for 1 minute. Rinse thoroughly with warm water.
2. Pour 3-4 drops of toner into the palm of your hands or onto a cotton round, and apply evenly to clean, dry skin. Gently pat into the face and neck until fully absorbed.
3. Scoop out a quarter-sized amount of moisturizer and apply it evenly onto clean, dry skin. Gently massage it over the face in upward strokes until fully absorbed.
When:
am • pm
Glow tip:
Sensitive skin? We've got you. Enzyme exfoliants, like powderporefect, are gentler on the skin compared to chemical and physical exfoliants like acids, scrubs, and brushes.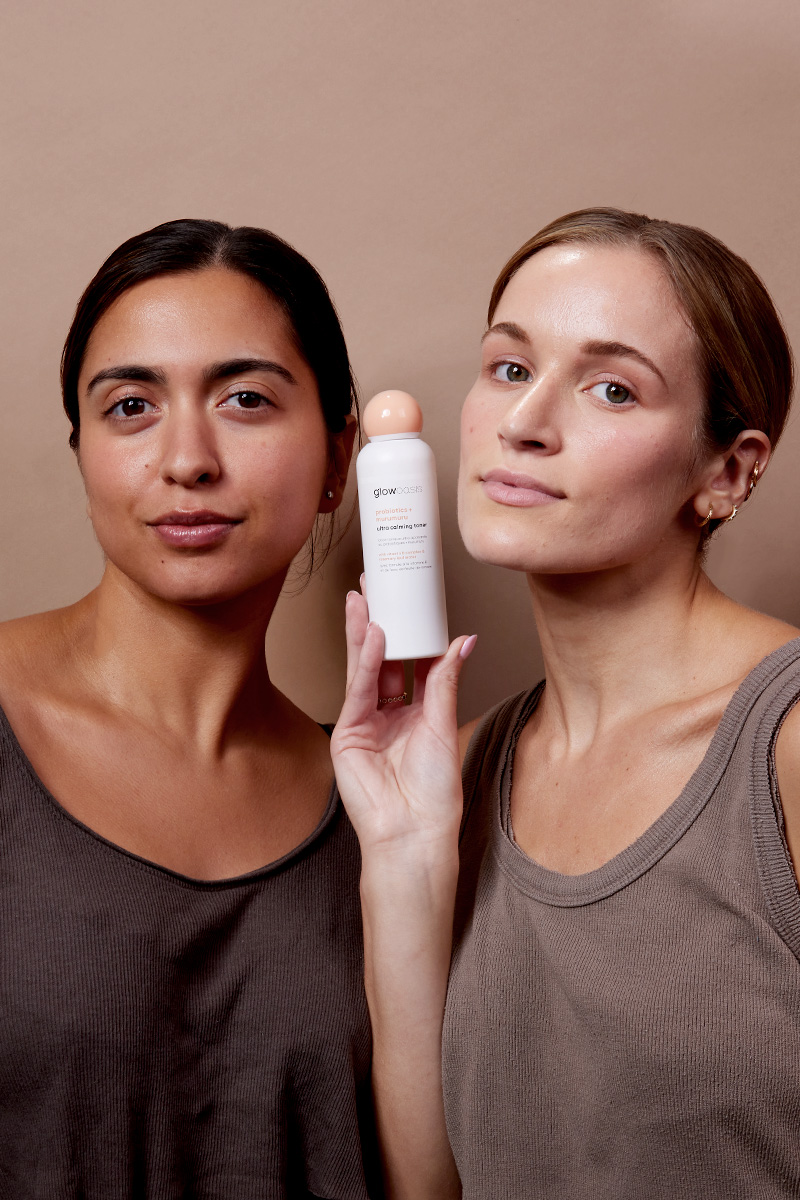 our clean commitment
We are committed to developing beauty products that truly perform while holding ourselves to unparalleled standards of clean.
learn more