winter skin saviors bundle
winter skin saviors bundle
Limited-edition holiday gift set that deeply nourishes, replenishes skin's moisture, and visibly calms redness at every step.

ultra calming toner: 120ml (4.05 fl. oz.)
hydra surge moisturizer: 50ml (1.69 fl. oz.)
makeupmelt mini duo: 15ml (0.51 fl. oz.) x 2
cloudcleanse mini duo: 30ml (1.01 fl. oz.) x 2

winter skin saviors bundle
winter skin saviors bundle
Baby, it's cold outside! Help skin survive the season's frigid temps, harsh winds, and dry indoor heat with the winter skin saviors bundle. Crafted to nourish, replenish, and calm skin, the limited-edition bundle features the EWG-verified probiotics + murumuru ultra calming toner and hydra surge moisturizer. The bundle also includes a rose quartz face roller proven to visibly reduce puffiness and fine lines — which are often exacerbated during winter months. Travel-size makeupmelt mini duo and cloudcleanse mini duo provide the necessary essentials for a double cleanse on the go. Complete with an exclusive cosmetic bag, the winter skin saviors bundle is a must for winter-proofing skin and keeping a healthy glow.

Bundle Includes:

ultra calming toner — Fragrance-free, balancing toner that visibly reduces redness and improves skin tone and texture to restore comfort to skin.

hydra surge moisturizer — Fragrance-free, hydrating moisturizer that melts into skin to lock in hydration, help restore the skin barrier, and calm visible signs of redness.

rose quartz face roller — Massaging tool that visibly reduces puffiness and fine lines, boosts circulation, and helps promote lymphatic drainage.

makeupmelt mini duo — 2 travel-size cleansing balms that remove all traces of makeup, oil, and SPF.

cloudcleanse mini duo — 2 travel-size non-stripping, pH-balancing foam cleansers that gently cleanse and unclog pores.

cosmetic bag — Portable case to carry beauty products in.


Vegan Probiotics
Balances & strengthens the skin microbiome to address the root cause of skin concerns

Murumuru Butter
Helps calm and moisturize dry, compromised skin

Moringa Oil
Maintains & replenishes skin's moisture

Neem Extract
Helps restore & repair the skin barrier

False Daisy
Visibly minimizes redness

Mandarin Orange Peel & Niacinamide
Brightens skin & helps diminish dullness

Blue Agave Leaf Extract & Desert Rose Leaf Extract

Ceramide NP
Helps maintain skin's moisture barrier

Cica Extract
Helps soothe & repair irritated skin
Sensitivity • Dryness + Dehydration • Dullness • Redness
1. Scoop out a dime-sized amount of cleansing balm with the included spatula onto dry skin. Use your fingertips to gently massage into the skin with circular motions, focusing extra attention on areas with heavier makeup. Then, rinse thoroughly with warm water, or wipe off with a damp washcloth.
2. Apply 1-2 pumps of the foam cleanser onto wet skin, and gently massage in circular motions. Rinse thoroughly with warm water, and pat dry.
3. Pour 3-4 drops of toner into the palm of your hands or onto a cotton round, and apply evenly to clean, dry skin. Gently pat into the face and neck until fully absorbed.
4. Scoop out a quarter-sized amount of moisturizer and apply it evenly onto clean, dry skin. Gently massage it over the face in upward strokes until fully absorbed.
5. At the center of the face, under the eyes and cheekbones, begin rolling the face roller outwards towards the hairline in short, gentle strokes. Moving down to the chin, continue rolling out towards the bottom of the ears. Glide the roller above the eyebrows and forehead in upwards and outward motions. Carefully roll down the sides of the neck and out towards the center of the clavicle.
When:
am • pm
Glow tip:
From skincare beginners to beauty experts and anyone in-between, this bundle makes the perfect gift for everyone on your list this holiday season.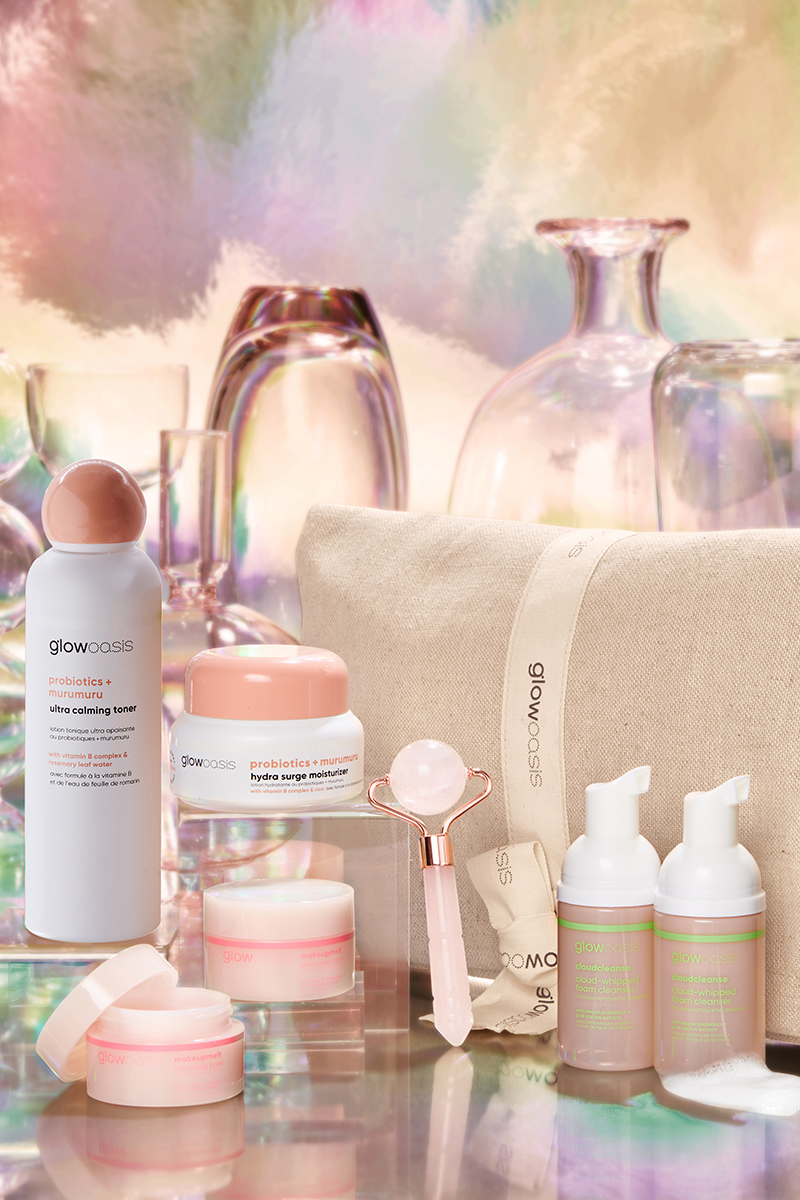 our clean commitment
We are committed to developing beauty products that truly perform while holding ourselves to unparalleled standards of clean.
learn more