What it is: Two-piece skincare kit that hydrates, nourishes and protects your skin. 

glowshot: 30ml (1.0 fl. oz.)
glowburst: 50ml (1.7 fl. oz.)


Say goodbye to dry skin and hello to a healthy, hydrated complexion! Featuring glowshot and glowburst, this two-piece skincare kit is the perfect remedy for your skin's winter woes. Our hello hydration kit is infused with clean, microbiome-friendly ingredients like vegan probiotics and prickly pear extract to support and strengthen the skin's barrier. Providing protection from skin stressors like dry indoor air and steamy showers, the kit will replenish your skin's moisture for a silky smooth look and feel. We promise this hydration is worth the hype. 

Set Includes:
glowshot supercharged hydrating serum - Moisturizing serum that energizes and revives dull, tired-looking skin.
glowburst intense hydration boosting cream - Deeply hydrating moisturizer that instantly replenishes, softens and smooths the skin.

Vegan Probiotics
• Regenerates a healthy skin barrier
• Firms the skin for a more youthful look

Prickly Pear Extract
• Replenishes & hydrates dry skin
• Refines skin tone to help fade dark spots
Dryness • Dullness • Aging skin • Oiliness • Acne-prone skin
While these products can be applied individually, we recommend layering them together in this order for better absorption.
glowshot supercharged hydrating serum:
1. With the bottle closed, squeeze the dropper a few times to fill with product.
2. Apply 2-3 drops of serum onto clean, dry skin.
3. Gently pat until fully absorbed.
glowburst intense hydration boosting cream:
1. Apply 1-2 pea-sized dollops of cream onto clean, dry skin.
2. Massage gently in upward strokes.
When: am • pm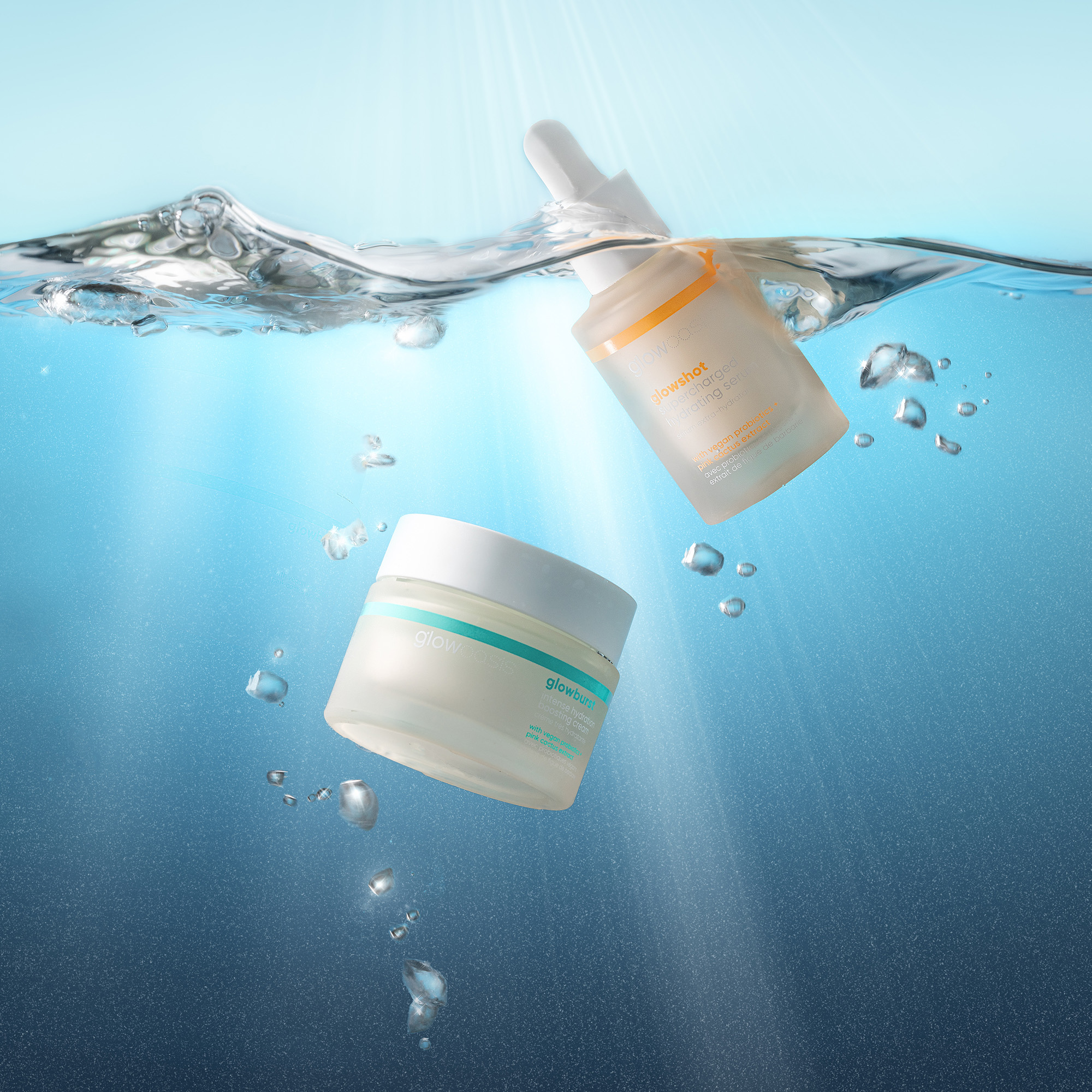 go deeper than skin care.